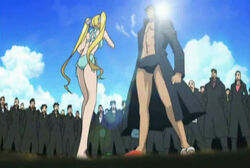 The Thugs are a group of Yakuza-like hoodlums who cross the paths of Santa and Mai several times in Itsudatte My Santa!.
Initially encountered during Christmas, after Santa caused the leader to drop his Christmas cake the group began assaulting him before being assaulted in turn by Mai and buried underneath a pile of Sanma. During summer the following year, the group also ran into Sharry, who caused the leader to drop his watermelon, unfortunately before they could assault her she buried them under a gigantic Watermelon.
Other Appearances
Edit
Love Hina
Edit
Main Article: Thugs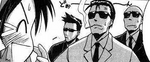 The thugs are an intimidating group of men that make various appearances throughout the series of Love Hina, usually as random encounters.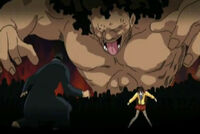 It is revealed that one of the bald thugs is named "Sabu" and their leader is named "Bro".
When Mai first threatened the thugs with setting Pedro upon them, they thought that she was referring to another Yakuza thug called "Pedro-san Hosei" aka "The Giant".
Community content is available under
CC-BY-SA
unless otherwise noted.