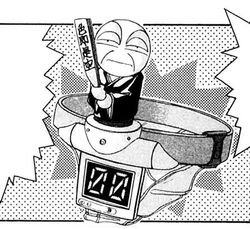 The Tally-Wacker Wacker is a type of "perversion sensory underwear" designed to bestow "divine punishment" upon the wearer should it detect a "stirring in the loins" from anything perverse.
Toeni Namba put a pair on Hitoshi in an attempt to curb his perverse tendencies. Although Toeni set the counter at 30, and despite Hitoshi's best efforts, Hitoshi's perversions caused him to receive the machine's final punishment; a proton bomb explosion caused by the monk self destructing over the wearer's crotch.
The writing on the monk's baton reads "Everything in life is empty". It is a mantra meant to illustrate that everything, on its own, has no meaning. Items and subjects only gain meaning after we confer our own meanings upon them.
Community content is available under
CC-BY-SA
unless otherwise noted.