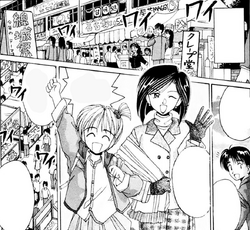 The School Festival or Cultural Festival (文化祭 bunkasai) is an annual event held by most schools in Japan, from Nursery schools to Universities, where the students of the various educational institutions display their artistic achievements.
Traditionally, most schools hold their festival on or around Culture Day (November 3rd), a national holiday, on a Saturday or Sunday, or sometimes both. However, some schools hold the festival as early as the first weekend in the September school trimester.
These festivals are held to display the students' learning, but many people visit a festival as a recreational diversion. Food is served, and often classrooms or gymnasiums are transformed into temporary restaurants or cafés. Dances, concerts and plays may be performed by individual volunteers or by various school clubs, such as the dance club, the orchestra club, the band club and the drama club.
Preparation for the event begins as early as May. Students have to think of what they want to do, confirm it with the student council, and book a room. Then, it is not uncommon at lunchtimes and after school, to find students practicing dance routines and singing in the corridors. The practicing may continue through the August holidays and continue on through the second school trimester until the festival date.
Other Appearances
Edit
Negima! Magister Negi Magi
Edit
Main Article: Mahora Academy School Festival
In Negima! Magister Negi Magi, all schools within the Mahora Academy hold a combined school festival known as the Mahora Festival that stretches across two days.
The festivals are usually open to the public, especially at High schools and Universities.
According to the curriculum guidelines of the Ministry of Education, cultural festivals are part of special activities and are defined as "events which aim to use the results of everyday learning to heighten motivation".
The Cultural Festivals are usually used as part of regular lessons in elementary schools, junior high schools and high schools, as such the students are obligated to attend. In universities, the cultural festivals are placed as extracurricular activity and so attendance is not mandatory.
As a form of competition between schools, in the days leading up to the event, some students will go to the gates of other schools and hand out leaflets for their own festival.
Community content is available under
CC-BY-SA
unless otherwise noted.