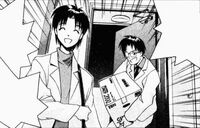 Santa's Parents are a happily married couple who work as traveling news photographers. For varying reasons depending on the manga or OVA, are never present on Christmas to celebrate Santa's birthday.
In the manga, due to their anniversary occuring on Christmas, Santa's parents always go on vacation during the holiday and as such are never present for Santa's birthday.
However, thanks to Mai's magic, the pair return to spend christmas with their son.
The gift Santa's Parents give him in the manga is a CINDY-2000 Full Tower computer made by IBN. This is a reference to Cynthia McDougal, daughter of the head of IBN from A.I. Love You.
It is revealed in the OVA that Santa's parents send him a picture of themselves every year because they want to show him what their world is like, and they gave him a camera so that he could do the same for them. However, Santa missinterpreted their photos as them showing off their happiness while he was alone on Christmas. Mai, however, corrects him on this assumption.
Community content is available under
CC-BY-SA
unless otherwise noted.