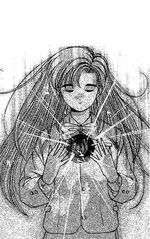 Program Options are a series of advanced "super-abilities" that the A.I.s Saati Namba and Toeni Namba can perform. In addition to their natural abilities, Program Options enable an A.I.'s abilities to range from electricity manipulation to altering their physical appearance. A,I.s can combine their abilities to increase their effectiveness.
A.I. Forty Namba is capable of performing more powerful versions of these "super-abilities" known as Hyper Program Options.
Program Options List
Edit
Program Option #1
Security Bypass

Allows an A.I. to bypass and access security protected areas and electronic domains.

Program Option #2
Control of Electricity

The A.I. can manipulate the electric and magnetic fields surrounding space by manipulating electrons.


Maximum output allows an A.I. to generate an electric static charge to use as a weapon, infuse electricity into an object, or even momentarily turn into electrons and "teleport" to a location.

Program Option #3
Senses Expansion

Raises the ability of an A.I.'s five senses (sight, hearing, touch, taste, smell), such as X-ray fluoroscopy

Program Option #4
Costume Rotator

Changes the clothes the A.I. is currently wearing based on a gallery of recorded images the A.I. has accumulated.

Program Option #5
Thermal Manipulation

Allows an A.I. to manipulate thermal energy, making it colder or warmer.

Program Option #6
Unknown

Program Option #7
Unknown

Program Option #8
Vector Simulator

Gathers available information and runs a simulation program to predict available outcomes for a set scenario.

Program Option #9
mandatory access device

Connect to the database in the world
Hyper Program Options
Edit
Hyper Program Option #1
visual scanning

Expansion capabilities of the power connection. Senses it is possible to perform, such as storage Extract for A · I and other semi-forced connection.

Hyper Program Option #4
Alter Body

Alters the size and shape of an A.I.'s body.
0 materialize module body OP #Entity of the program. 0 materialize module inversion function HOP # I want to transfer to your computer reality world.
Program Option #2 is the most used Program Option throughout the A.I. Love You series.
While sleeping with Puppy, who had been mortally injured after being hit by a car, Saati unconsciously accessed one of her Program Options which accelerated Puppy's regenerating cells to heal himself before he could succumb to his wounds.
Community content is available under
CC-BY-SA
unless otherwise noted.