Mai
Aliases
Santa Clause, Mai the Santa
Birth Date
December 10th
Age
Zodiac Sign
Blood Type
Residence
[[]]
Affiliations
[[]]
Family
MaiMai
Occupation
Likes
[[]]
Dislikes
Voiced by
Brittney Karbowski
Seiyū
Aya Hirano
First Appearance
Chapter 1 (manga)
Episode 1 (OVA)
Appearance
Edit
Due to her weak magic, Mai is only able to magically produce Sanma in the manga. However, in the OVA she can produce anything beginning with "San" (due to it being the same as "San"ta) such as Sanma, Sanbo, Sansetsukon, a Sanba line and a Sankaru Dressingroom.
Concept Gallery
Edit
Other Appearances
Edit
Akamatsuverse
Edit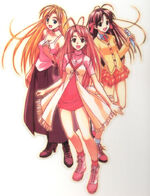 Mai has appeared in a promotional image alongside fellow female leads Naru and Saati (from Love Hina and A.I. Love You respectively).
Community content is available under
CC-BY-SA
unless otherwise noted.