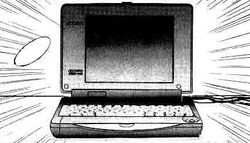 A Laptop Computer is a portable personal computer suitable for mobile use.
A laptop has most of the same components as a desktop computer, including a display, a keyboard, a pointing device such as a touchpad, and speakers built into a single unit.
Laptops can be powered by mains electricity but can also be used away from a power outlet using a rechargeable battery, thusly making them "mobile".
The concept of portable computers were originally considered to be a small niche market, mostly for specialized fields where frequent travel was a necessity; such as the military, accountants and sales representatives. As portable computers became smaller, lighter, cheaper and more powerful, they became more widely used for a variety of purposes.
Hitoshi Kobe's homeroom teacher, Nitta, owns a laptop computer that he uses to check class attendance. Saati hacked into the device to add herself to the class roster and later used it to secretly help Hitoshi solve a maths problem on the class blackboard.
Hitoshi himself also owns a miniature handheld computer which he uses in an attempt to defeat the Peter 4 virus. Unfortunately, Hitoshi had to destroy the computer after the virus managed to hide itself within the device.
Community content is available under
CC-BY-SA
unless otherwise noted.