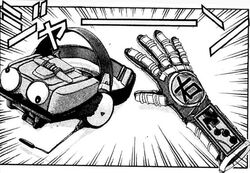 The Hyper Linking System is an aparatus concepted and invented by Hitoshi Kobe to enable him to see and interact with Cyberspace through Saati Namba, Toeni Namba or Forty Namba.
The system's head aparatus, a modified Virtual Boy headset, allows the wearer to see whatever the A.I. the system is linked to sees while the system's hand aparatus, a modified Nintendo Power Glove, gives the wearer the ability to control the A.I.'s right hand and associated senses.
Through the Hyper Linking System, Hitoshi is able to venture with the A.I. girls through cyberspace and in doing has assisted the girls when obtaining school data for Yuuko Watanabe and when Saati first ventured into the Internet to search for information on Sayo Ishihara.
While the system is linked with them, the A.I. is unable to control or feel they're right hand due to the system linking to and hijacking that limb.
While linked, the controller is also able to access and use that A.I.'s Program Options abilities.
While initially used for exploration purposes, Hitoshi once used the system to link with Forty (boy) when the pair teamed up to "date" various characters in a Dating Simulation Videogame.
Community content is available under
CC-BY-SA
unless otherwise noted.