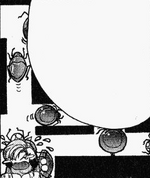 A Computer Worm is a malicious software program that is created for the purpose of entering other computer programs.
Worms cause damage within a program through consuming bandwidth (by making the program larger than it was originally due to the number of worms within it), worms can also replicate themselves, making their bandwidth consumption larger, and can also be used to carry other malicious software such as viruses into a program with them. This is known as a "payload".
A very common payload for worms is to install a backdoor into an infected program or computer to allow another user entrance without previous authorization.
The actual term "worm" was first used in John Brunner's 1975 novel, The Shockwave Rider.
On November 2, 1988, Robert Tappan Morris, a Cornell University computer science graduate student, unleashed what became known as the Morris worm, disrupting a large number of computers then on the Internet, guessed at the time to be one tenth of all those connected. Morris became the first person tried and convicted under the 1986 Computer Fraud and Abuse Act.
Community content is available under
CC-BY-SA
unless otherwise noted.