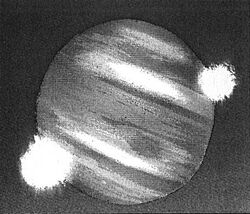 Comet Shoemaker–Levy 9 was a comet that broke apart and collided with Jupiter in July 1994, providing the first direct observation of an extraterrestrial collision of Solar System objects.
The predicted collision generated a large amount of coverage in the popular media, and the comet was closely observed by astronomers worldwide. The collision provided new information about Jupiter and highlighted its role in reducing space debris in the inner Solar System.
The comet was discovered by astronomers Carolyn and Eugene M. Shoemaker and David Levy. Shoemaker–Levy 9, at the time captured by and orbiting Jupiter, was located on the night of March 24, 1993, in a photograph taken with the 40 cm (16 in) Schmidt telescope at the Palomar Observatory in California. It was the first comet observed to be orbiting a planet, and had probably been captured by the planet around 20 – 30 years earlier.
The fragment Hitoshi and Saati observed was Fragment D, which impacted with Jupiter on the 17th of July at 11:54 (UTC) (which would be around 8:54pm in Japan).
Community content is available under
CC-BY-SA
unless otherwise noted.