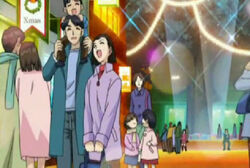 Celebrated as the birth of Jesus Christ in most western countries, Christmas in Japan is encouraged by the commercial sector of the country and became popular as a festive event. It is not a national holiday like it is in some other countries.
Gifts are exchanged and children's presents are left next to their pillow at night. Christmas parties are held on and around Christmas Day; a unique feature of these celebrations is the Japanese Christmas cake, which is often a white whipped cream cake with strawberries.

The first recorded Christmas in Japan was celebrated with a Mass held by Jesuit missionaries in Yamaguchi Prefecture in 1552. Some believe that unrecorded celebrations were held before this date, starting in 1549, when Saint Francis Xavier arrived in Japan to begin missionary work.
Starting with the expulsion of missionaries in 1587, Christianity was banned throughout Japan beginning in 1612 and the public practice of Christmas subsequently ceased. However, a small enclave of Japanese Christians, known as Kakure Kirishitan ("hidden Christians"), continued to practice over the next 250 years in secret.
Christianity and Christmas practices re-emerged at the beginning of the Meiji period. Influenced by American customs, Christmas parties were held and presents were exchanged. The practice slowly spread in major cities, but its proximity to the New Year's celebrations made it smaller in focus.
During World War II, all celebrations and customs were suppressed. From the 1960s, with the aid of a rapidly expanding economy and influence from American television dramas, Christmas became popular once again.
In Japan, Christmas Eve is a popular event for couples to spend time together and exchange gifts similar to the way Valentine's Day is treated in most western countries.
Community content is available under
CC-BY-SA
unless otherwise noted.