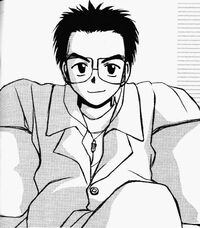 Billy-G (ビリー・G Birī・G) is a skilled, though amoral, computer programmer and hacker who acts as a major rival and antagonist for Hitoshi Kobe and Saati Namba after learning of Kobe's discovery of the Reality Module.
Appearance
Edit
After spending some time in the United States of America producing computer operating systems, "Billy" has returned to Japan and spends much of his time producing computer viruses such as the Peter 4 virus that attacked Saati and the Spider Virus that mutated into Spider Zero, as well as becoming involved in criminal enterprises such as pyramid schemes to gain quick cash.
After one of his pyramid schemes came under attack from Hitoshi, Saati and Toeni Namba, Billy was unable to prevent the A.I.'s from invading his computer systems, despite his best efforts and was even more amazed when the two sisters physically appeared from the computer screens into the room.

Concocting a plan to capture one of them to learn their secrets, Billy captured Saati and attempted to replicate her program; gaining the secret of the Reality Module program in the process.
Retiring to further study the program, Billy had managed to create his own functioning Artificial Intelligence program, dubbed A.I. Program No. 31, and sent it to support Saati during her battle against the rampaging Spider Zero.
His name "Billy-G" is a reference to computer technology entrepreneur Bill Gates.
Community content is available under
CC-BY-SA
unless otherwise noted.