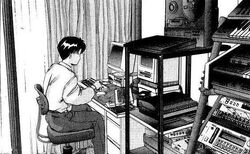 Assembly is a computer programming language that has a very strong correspondence between language that a user can understand and the computer's machine code instructions.
Originating in the 1950's, Assembly languages eliminated much of the error-prone and time-consuming first-generation programming needed with the earliest computers, freeing programmers from the tedium of remembering numeric codes and calculating addresses. They were once widely used for all sorts of programming. However, by the 1980s (1990s on microcomputers), their use had largely been supplanted by higher-level languages, in the search for improved programming productivity. Today assembly language is still used for direct hardware manipulation, access to specialized processor instructions, or to address critical performance issues.
Toeni Namba was created using Assembly.
Assembly language is converted into machine code by a utility program referred to as an "assembler"; the conversion process is referred to as assembly, or assembling the code.
In the 1990s, most console video games were written in assembly, including most games for the Sega Mega Drive, Sega Genesis and the Super Nintendo Entertainment System.
Community content is available under
CC-BY-SA
unless otherwise noted.