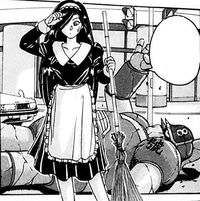 The Anti-A.I. Delete Machine Mk I is a program designed by Hitoshi Kobe to aid in the capture and compression of rogue Artificial Intelligence programs.
Compiled after his previous A.I. creations gained physical form and went rogue, Hitoshi gave Saati Namba and Toeni Namba Anti-A.I. Delete Machine Mk II and Mk I respectively to aid them in tracking down and recapturing the programs before they caused considerable damage to the city.

Community content is available under
CC-BY-SA
unless otherwise noted.