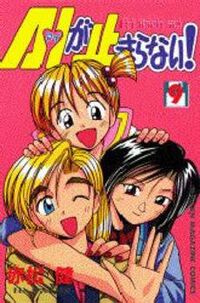 AI ga Tomaranai 0-9 is a Japan-only computer CD-ROM that features three full-colour stories made by Ken Akamatsu using the A.I. Love You characters. The CD-ROM was released on October 17th, 1997, following the completion of the main series.
The first two stories are based on two popular fairy tales, while the third is an epilogue chapter explaining where the characters are after the end of the main series.
Cinderella Special
Edit
The Last Program
Edit
Saati writes a letter from America to inform someone of their current situation there.
While TOKYOPOP had the rights to the eight-volume A.I. Love You manga, they didn't have the rights to any of the material published on the Japan-only computer CD-ROM, AI ga Tomaranai 0->9. Once Adam Arnold had finished up his adaptation work on TOKYOPOP's release of A.I. Love You, he had a deep desire to at least get the epilogue translated into English and so called in a favor from one of the translators he had worked with, Nan Rymer, and made his own English Adaptation from her translation so that the finished product would match the previous rewrite work he had done for the primary manga series.
Outside Links
Edit
Community content is available under
CC-BY-SA
unless otherwise noted.