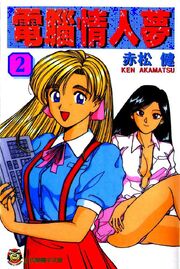 A.I. Love You volume 2 is the second of eight manga volumes that make up the A.I. Love You manga series. Containing seven chapters, this volume introduces Toeni Namba and further developes Hitoshi and Saati's relationship.
Originally serialized in Weekly Shōnen Magazine (#26, #27, #29 - #35), these chapters were collected and published in 8 tankōbon volumes by Tong U Comics. An English translation of the series was published by Tokyopop five years later, beginning in February, 2004, with Ken Akamatsu creating new cover art and illustrations for the books. A French translation was also created by Pika Editions.
Program 8. Happy (or Unhappy) Birthday
Edit
With his birthday coming, Hitoshi tries to inform Saati with the intention of finally being able to celebrate it with someone. However, Saati, developing further as a human, is beginning to act secretive and Hitoshi begins to believe that she has a new boyfriend.
Program 9. The Good Life
Edit
Hitoshi has Saati take lessons from a famous chef to improve her cooking skills.
Program 10. The Lady Who Causes Storms
Edit
After Saati innocently grows mold in Hitoshi's office, Hitoshi discovers a floppy disc containing A.I. 20, an Artificial Intelligence he had developed before Saati.
Program 11. She's a Real Hottie!
Edit
Toeni indruces herself and attempts to help with the apartment's leaking problem while also identifying Saati as her rival for Hitoshi's attentions.
Program 12. The Poolside Kiss
Edit
Toeni attempts to "win" Hitoshi back from Saati at the school pool.
Program 13. Love Triangle
Edit
Toeni's revelation that Hitoshi had asked her to be his girlfriend before Saati drives Saati to return to Hitoshi's computer.
Program 14. Saati vs. Toeni
Edit
Toeni kidnaps Hitoshi and challenges Saati to take him back at the port-side amusement park.
Program 15. Mountain Happening
Edit
Hitoshit takes Saati and Toeni to the mountains for a stargazing night.
Program 16. A Wish Upon a Star
Edit
Forced into a photo competition that will decide the fate of his and Saati's Astronomy club, Hitoshi must take the perfect picture of Jupiter with only an old telescope and a disposable camera.
Community content is available under
CC-BY-SA
unless otherwise noted.