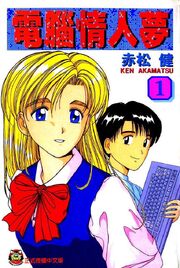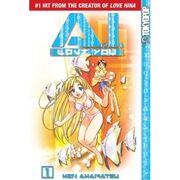 A.I. Love You volume 1 is the first of eight manga volumes that make up the A.I. Love You manga series. Containing seven chapters, this volume introduces Hitoshi Kobe and covers the transformation of Saati Namba from an Artificial Intelligence into a real girl.
Originally serialized in Weekly Shōnen Magazine (#18 - #25), these chapters were collected and published in 8 tankōbon volumes by Tong U Comics. An English translation of the series was published by Tokyopop five years later, beginning in February, 2004, with Ken Akamatsu creating new cover art and illustrations for the books. A French translation was also created by Pika Editions.
Program 1. The Program Goes Haywire
Edit
Hitoshi Kobe is a lonely High School loser with a remarkable gift for programing until his computer is left on during a lightning storm and one of his programs, Number 30, is transformed into a real girl with super powers.
Program 2. Wake Up at Hotel Ryuuguujoo
Edit
After watching one on television, Saati wants to know what a date is and Hitoshi attempts to rise to the occasion.
Program 3. Join the Club!
Edit
Hitoshi take Saati to try out for various school clubs, resulting in a tennis match between Saati and Aso.
Program 4. Take Me to the Ocean!
Edit
After attempting to go to school during a public holiday, Hitoshi take Saati to the beach only to discover it is rife with litter. Using Saati's powers, Hitoshi and Saati help to restore the beach to its pristine state.
Program 5. The Laughing Invader
Edit
While researching data to cure Hitoshi's cold, Saati becomes infected with a malevelant virus.
Program 6. SAYONARA
Edit
Hitoshi's previous attempt to destroy the virus that has infected Saati failed and now he must race against time to destroy it before it destroy's Saati.
Program 7. Money Troubles?!
Edit
Noticing Hitoshi's money problems, Saati attempts to help but digitally increasing his bank account. After discovering that what she did was illegal, Saati must now enter the internet and fix what she did before the authorities find out.
Included in the Tokyopop manga release are three concept cells of the original cover art of volumes 1, 2 and 3.
Community content is available under
CC-BY-SA
unless otherwise noted.